Find An Obituary
Help remember your loved one with a thoughtful memorial, honoring the story of their life and family, as well as obtain details on their funeral arrangements. Click below to view our obituary listing.

Join Our Mailing List
When an obituary is published to our site, we will notify you by email. This service is free, and you may unsubscribe at any time.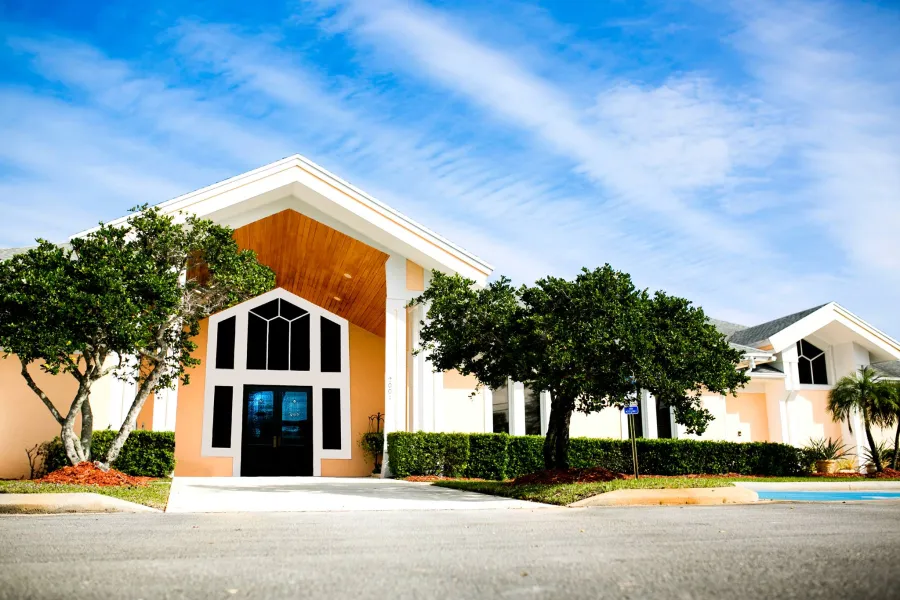 Palm City's Trusted Funeral, Burial & Cremation Provider Since 1976!

Click here to read about special guidelines in place due to the COVID-19 pandemic.
"Forest Hills has proudly served families of Palm City and surrounding communities in their time of need since 1976. Our commitment to excellence is continually demonstrated through personalized service and attention to detail." — Manager & Funeral Director Victor A. Hankins
Of the many arrangements made after losing a loved one, the first is the selection of a funeral home. Our staff can help create a beautiful tribute and provide guidance and suggestions on the many decisions made when planning a funeral, cremation, memorial, celebration of life, and/or burial service. We take pride in meeting the specific, and sometimes unique, needs of each and every family. Please use our website to learn about the funeral, cremation and permanent memorialization services we offer, as well as our pre-planning and grief support resources.
If you have any questions or concerns, please contact us at anytime. We are here to help you!
Plan Ahead
Advanced planning is a thoughtful and considerate act that your loved ones will truly appreciate when the time comes.
Customized Tributes
Customizing the service for your loved one allows you to truly honor their memory with unique and personalized details.
Testimonials
It is with appreciation that I write this outstanding review for Forest Hills Memorial Park. My mother's passing was handled with respect and dignity. Marsha is a great asset to Forest Hills Memorial Park.and a gift to everyone that she assists.Marsha made my family feel like part of her very own family.Her kindness will never be forgotten.
Karen Wolf
Upon my husband's sudden passing I contacted Forest Hills. Brian called me right away and started what I now refer to as "my healing". He handled every little detail. The warmth displayed by the staff and Brian's "anything you need" attitude came through even from behind their masks! My needs were treated with respect and dignity. I truly feel that, should I need help in the future, Forest Hills will be there.
Nina Crotty
My husband and I recently went to Forest Hills to plan our pre-need funeral arrangements. We worked mainly with the nicest young lady we have met in a very long time, Bridget Childers. She was extremely informative, yet allowed us to make our own decisions. Never once did we feel that she was pushing us in a direction to spend additional funds on items that was not necessary.
Patricia Victor
I highly recommend Forest Hills, the staff, the greeters, the attendants, everyone, and especially Marsha, an extreme asset to Forest Hills, and Brian, who was the consummate professional. We thank you both, and everyone at Forest Hills for making a difficult situation alot easier, through kindness, attention to every single detail, and Marsha, to this day is still helping w buttoning up every detail, no matter how small.

Katherine DeGraffenreid
Thank you Mike DeJesus for taking your time and helping my husband and I find and setup our final resting place together. It was something I never thought of doing so I was very grateful for your knowledge and patience and our discount! We are thankful that we don't have to burden our children with our final resting place and arrangements!
Gina M
Couldn't have ask for a more professional and caring staff. They took what could have been a stressful process and made it very easy. Their prices are very affordable... especially when your pre-planning.
Crystal Mason
I never tend to rate things typically but I felt compelled to rate Forest Hills Cemetery for a phenomenal job with my mothers funeral yesterday. During the entire process you could not have found a more compassionate and knowledgeable staff, especially our funeral director Antonio. He covered every single detail. They made a very difficult time manageable.
Pamela Oshea
Forest hills did my mothers funeral in 2003, grandfathers in 2015 and my grandmas yesterday. Their services were so beautiful. And I appreciate all the work they did for us. They made the grieving process a little easier by taking the stress off of us as much as possible. Thank you Forest Hill for everything you did for us.
Valerie Picano Kinder
I have been to two different services at this home. I have noticed this home is very caring, compassionate and profession. They are very hospitable and very courteous and it's obvious they care about their clients and their families.
Mark Dake
Attended both of my fiancé's grandparents funeral here. They did a beautiful job and are extremely professional and respectful with everything. Best cemetery/funeral home on the treasure coast.
Jamie Kinder
While making cemetery arrangements for a loved one is not at all a good feeling, Bridgette made this unbearable experience one that was filled with empathy, emotional support & guidance. Her caring character and sensitivity to what we were going through provided us with comfort that was sorely needed. We are so thankful to Bridgette for all she has done to support us, including the many hugs during this difficult time. If you are faced with the loss of a loved one and are looking for a business that has the utmost caring culture, I highly recommend Forest Hills.
Karen Ragusa
They are kind and attentive. The grounds always look beautiful. Whenever I have a question or concern it is promptly addressed.
Jules & Lee R-M
Both my Mother & Brother found their final 'resting place' with God & a niche located in Butterfly Garden facing a lake.
Helen Posy was so wonderful, caring, respectful, & helped me with all of the details during two very difficult times in my life. The small, private, outside services was sweet, & perfect for both my dearly love Mother and Brother. Also, must mention the cemetery grounds are lovely, peaceful, & well taken care of by the grounds keepers. I highly recommend Forest Hills Memorial for all it has to offer for anyone. 5 Stars
Susan Willamson
Very serene and beautiful cemetery. The Veterans Section honors our departed service members.
George Burkhardt
I wanted to say thank you to wonderful caring loving staff both couples I assumed their compassion shows throughout the funeral.
Bellelynda Brunachee
Wreaths Across America, @ Forest Hill Cemetery is the BEST Salute to "OUR FALLEN SOLDIERS" here in the UNITED STATES OF AMERICA!!!
Rainer Jenkins